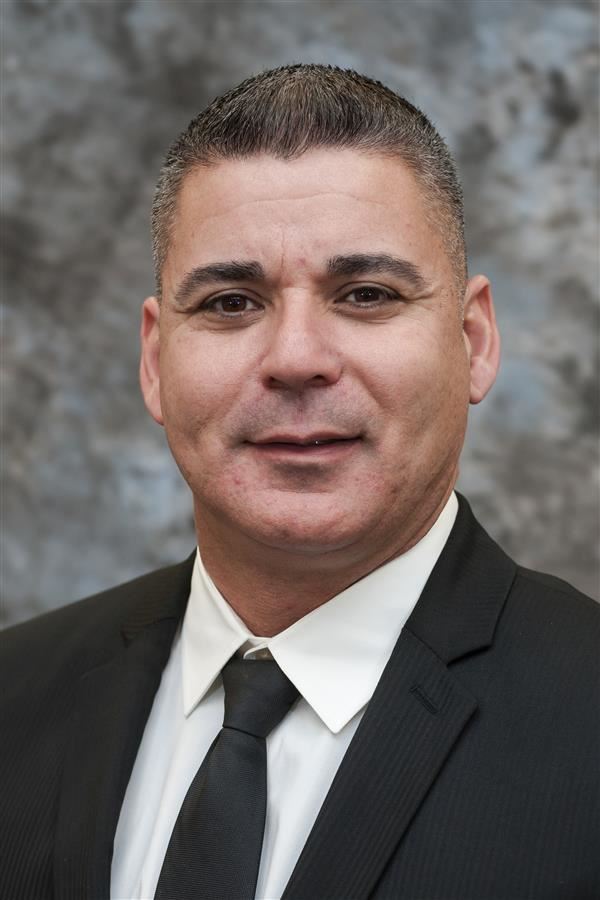 Phone: 909.624.0029
Email:
Degrees and Certifications:
Mr.

Gormaz
Welcome to Serrano Middle School
Dear Parents and Students:
Welcome to Serrano Middle School. My name is Mauricio Gormaz and I'm honored to welcome all students and families to the new school year! I'm looking forward to continuing to work with our school staff, students, parents, and community members to build upon past successes. Serrano was designated an AVID National Demonstration School in 2015 and in 2014 Serrano was selected as National School to Watch. Two national recognitions which exemplify our successful and hard working students and staff!
Serrano is committed to our students and their preparation to meet the demands of the 21st Century. Students will be challenged every day to meet and exceed the rigorous Common Core State Standards by engaging in critical thinking and problem solving in real world situations. This rigorous journey won't be endeavored alone. The entire staff is committed to supporting our students along their journey while holding each and every student to high expectations. We encourage students to explore their interests and individual strengths through our elective program that includes leadership, choir, band, sports, Spanish and many others. We have a variety of support systems to meet the challenges of early adolescence and our award winning, innovative interventions are effective in meeting our students' needs.
Serrano recognizes that in order for students to reach their full potential, they need to have engaged parents and guardians. There are formal and informal ways you can partner with us. We have monthly Coffee with the Principal meetings and opportunities for parents to serve on our Site Parent Advisory Committee (SPAC) and our Site English Learner Parent Advisory Committee (SELPAC). I also invite all parents to sign up for School Loop (http://serrano-omsd-ca.schoolloop.com/ ) and to follow us on Twitter (@Serrano_OMSD). Both are easy and essential ways to partner with us in support of our students.
On behalf of the entire Serrano staff, I would like to invite students and parents to share in our commitment to support and prepare our students for their future academic careers in high school, college and careers. You're a Spartan now and are a part of the tradition of excellence established by all past and present Spartans! Together, we'll ensure this year is successful, exciting, and memorable for every Spartan.
Sincerely,
Mauricio Gormaz
Bienvenidos a La Academia de AVID en la escuela Serrano

(Advancement Via Individual Determination)
Cerrando la brecha en el rendimiento mediante la preparación de todos los estudiantes para la universidad
y el éxito en una sociedad global.
Estimados padres y estudiantes:
Bienvenidos a la Escuela Intermedia Serrano. ¡Ahora eres un espartano! Mi nombre es Mauricio Gormaz y me siento honrado de ser su director. Espero trabajar con nuestro personal escolar, estudiantes, padres y personas de la comunidad para continuar la: Tradición de excelencia" que Serrano ha establecido en el transcurso de los años. ¡Más recientemente, Serrano fue homenajeada nacionalmente como una escuela de demonstracion en el programa de AVID y en el 2014 fuimos reconocidos como una escuela para observar nacional! Dos honores que indican lo exitoso que son los alumnos y personal aqui en Serrano.
Serrano está comprometida a nuestros estudiantes y a su preparación para cumplir con las exigencias del Siglo 21. Los estudiantes serán desafiados todos los días para cumplir y exceder las Normas Comunes rigurosas del estado al participar en razonamiento crítico y solución de problemas en situaciones del mundo real. Esta rigurosa jornada no la harán solos. Todo el personal está comprometido a apoyar a nuestros estudiantes en su jordana, mientras hacemos responsables a cada uno y a todos de altas expectativas. Nosotros exhortamos a los estudiantes para que exploren sus intereses y fortalezas personales mediante nuestro programa de clases electivas que incluyen liderazgo, coro, banda, deportes y muchos otros más. Tenemos variedad de sistemas de apoyo para cumplir los desafíos de la pre adolescencia y nuestras galardonadas e innovadoras intervenciones son eficaces para satisfacer las necesidades de todos nuestros estudiantes.
La Escuela Serrano reconoce que para que los estudiantes alcancen todas sus facultades intelectuales, ellos necesitan padres y tutores legales que estén interesados y que participen. Hay maneras formales e informales en las que pueden ser nuestros aliados. Tenemos juntas mensuales de Café con el Director y oportunidades para que los padres ocupen un puesto en el Concilio escolar (SSC) y en nuestro Concilio Consultivo para estudiantes que aprenden el idioma inglés (ELAC). Yo también invito a todos los padres para que se inscriban en la conexión escolar (School Loop) (http://serrano-omsd-ca.schoolloop.com/ ) y nos sigan en Twitter (@Serrano_OMSD). Ambas son maneras fáciles y eficaces de unirse a nosotros para apoyar a nuestros estudiantes.
De parte de todo el personal de Serrano, quiero invitar a los estudiantes y padres para compartir nuestro compromiso de apoyar y preparar a nuestros estudiantes para sus futuras carreras académicas en la escuela secundaria, College y carreras profesionales. ¡Eres un espartano ahora y formas parte de la "Tradición de excelencia" establecida por todos los espartanos pasados y presentes! Juntos, nos aseguraremos que este año sea exitoso, emocionante y memorable para cada espartano.
Atentamente,
Mauricio Gormaz